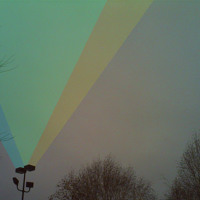 With the [Beyond the Upstate Soundscape] posts, we will be spotlighting artists, labels, venues, blogs, festivals and other entities that are hard at work in experimental audio beyond the borders of the Upstate region and worth your attention. (Check out our our first [BUS] post on the Voice of Valley Noise Rally for more info on these posts). For this post, we're highlighting a radio show/record label out of Portland, OR.
Every Monday night since 2007, Portalnd-based Optic Echo Records has hosted 'Optic Echo Presents' on the Portland Radio Authority. This consistently awesome radio show features live mixing of ambient, experimental, and modern classical (and on vinyl no less) by host Mike Jedlicka (also head of the label). The track selection is stellar and unpredictable  featuring new releases by experimental artists along with a healthy dose of weird records that can come from anywhere. See the tracklisting from the most recent show below.
Gertrude Behanna- God Isn't Dead! b1
Drape- An Idea and it's Map b1
Future 3- Blue Skied an' Clear a1
Juana Molina (Four Tet rmx)- Salvese Quien Pueda a2
The Black Dog- Music for Real Airports c1
Grouper- Cover the Windows and Walls a3
DJ Shadow- Total Breakdown b5
Loscil- Sketches from New Brighton d1
Thomas Koner – Novaya Zemlya a1
Field Rotation- And Tomorrow I Will Sleep a2
Black to Comm- Alphebet 1968 a1
Mountains- Choral c1
Jana Winderen – Debris a1
Pandang Food Tigers- Born Music b1
Recent programs can be streamed/downloaded via SoundCloud and Mixcloud and all past programs can be downloaded as a podcast.
Enjoy.